The Transition to Adulthood (T2A) Alliance held events at all of the party conferences in September and October. Each event involved speakers from the T2A Alliance, the relevant Minister or senior party representative (Rt. Hon. Crispin Blunt MP, Helen Goodman MP and Lord Dholakia), and a representative from the T2A pilots. These were the only events at party conferences to directly address young adults in a criminal justice context. The events were well attended (between 35 and 45 attendees), and there was a high quality of presentations and discussion.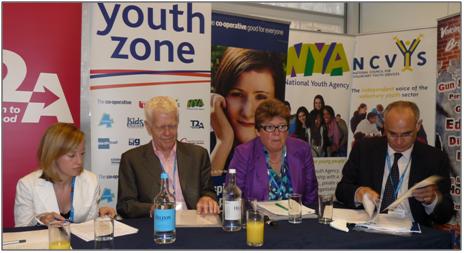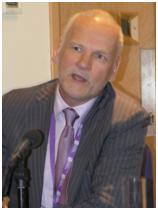 [Left, Lord Navnit Dholakia, Deputy Leader of the Liberal Democrats in the House of Lords and President of Nacro, speaking at the T2A Liberal Democrat Party Conference fringe event in September; Right, Mike Maiden, CEO of Staffordshire and West Midlands Probation Trust]
T2A will build on the good progress made at these meetings in the forthcoming months, and will seek to maintain its engagement with senior parliamentarians across all three parties.
The full details of the events were:
Liberal Democrats:
Title: 'Delivering Effective Integrated Local Services for Young Adults in the Criminal Justice System'
Date: Monday 19th September 2011, 12.30-2.00pm, Youth Zone (inside secure area), Birmingham ICC
Chair:
Debbie Pippard, Head of Programmes, Barrow Cadbury Trust
Speakers:
Lord Dholakia, Deputy Leader of the Liberal Democrats in the House of Lords; President, Nacro
Clive Martin, Director, Clinks
Penelope Gibbs, Director of the Out of Trouble Campaign, Prison Reform Trust
Mike Maiden, Chief Executive, Staffordshire and West Midlands Probation Trust
Labour:
Title: 'Growing out of Crime': Effective Responses to Young Adults in the Criminal Justice System
Date: Tuesday 27th September 2011, 10.30-12.00pm, Youth Zone (inside secure area), Liverpool ACC
Chair:
Ruth Cadbury, Chair of the Barrow Cadbury Trust
Speakers:
Helen Goodman, Shadow Minister for Justice
Frances Crook, Director, Howard League for Penal Reform
Clive Martin, Director, Clinks
Vicki Helyar-Cardwell, Director, Criminal Justice Alliance
Conservatives:
Title: 'Delivering Effective Integrated Local Services for Young Adults in the Criminal Justice System'
Date: Monday 3rd October 2011, 12.30-2.00pm
Venue: Manchester Central, Room 6 Zone (inside secure area), Manchester Central
Chair:
Sara Llewellin, Chief Executive, Barrow Cadbury Trust
Speakers:
Rt. Hon. Crispin Blunt MP, Parliamentary Under Secretary of State, Ministry of Justice
Clive Martin, Director of Clinks
Rob Smith, Chief Executive of YSS (social exclusion charity, delivering the T2A pilot in Worcestershire)
Vicki Helyar-Cardwell, Director, Criminal Justice Alliance